One, Two, Three
We picture-book writers like things that come in three's. We even have a fancy technical term for it: The Rule Of Three. See how technically fancy we are? Ha!
But anyway, my book
Hush, Little Dragon
completed something of a hat-trick today to my delight (see- we children's writers are just like hockey players- how cool are we?! They like three's too...)
Up until now, I had two favorite reviews of
Hush
. The first one was by
Regan McMahon of The San Francisco Chronicle
who, my faithful readers and BFF's will remember, called it "Sweeney Todd for the sandbox set." That's my future epitaph, by the way, for anyone making those sort of plans for me now. Nothing will likely top that in my career, just so you know. Lovedlovedloved it.
The second one came from Gracie over at
Bookie Woogie
. She enthused that Hush was "a funny, cute, little, horrifying book" and she illustrated Kelly Murphy and I being presented to Baby Dragon as his next meal. Brought tears of laughter to my eyes- wonderful.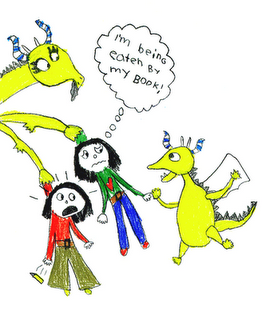 But I like things to come in three's... and now I have a third favorite review (and I should of course clarify that there have been tons of other very favorable reviews that I have so very much appreciated and I don't mean to slight those reviewers at ALL, I just wanted a fancy twist for a blog post and that's what I came up with at 10:00 at night)! Where was I?
Oh, yeah, Tara Lazar's, uh,
review today of Hush, Little Dragon
. Freaking Hilarious. Laughed so hard I couldn't breathe! Oh Tara, thank you, and I do mean thank you, for the uniquest review I think Hush will ever receive. (Stick with prose, dear, stick with prose...)
:)