April Is Poetry Month!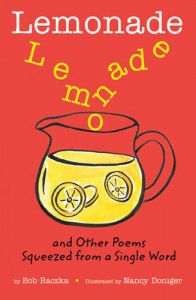 If you want to get your kids, or someone else's kids, or
anyone
for that matter, interested in poetry, get a copy of this book by
Bob Raczka
.
It is wonderful! Reading the poems is sort of like putting a puzzle together, which is at least half the fun as you race through the whole book. Once you read them all through, you get a wonderful sense of accomplishment- they are short and simple, but so tricky! Then you will probably admire just how deceptively complex they really are. And go back through and study them.
And then your kids, or someone else's kids, or
you
for that matter, will want to sit down immediately with a pen and paper and write one of your own. Which is the best way to honor a wonderful book like this!
Spend some time with kids and poetry this month- you'll be glad you did.
:)