Coffee with Kelly? I'm jealous!
Kelly Murphy
, the incredibly talented illustrator of my first two books, is on
Seven Impossible Things Before Breakfast
today! She has another book out this season,
Brand-New Baby Blues
, written by
Kathi Appelt
, that is just terrific: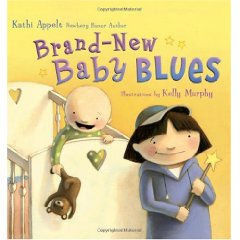 and Jules had them over for coffee (I know, it was just cyber-coffee, but I'm still jealous!)
I finally got my hands on a copy of this book just last week and it was great fun to read- a swingy, bouncy text with adorable illustrations. It was entertaining, too, to pull it out for my kids- they recognized that it was Kelly's work right away (which made me very proud- discerning little picture-book purveyors that they are).
What we especially loved was seeing her spot illustrations for a change- almost all of
Hush, Little Dragon
and
Over At The Castle
are full-bleed (I hope I have that terminology right!) illustrations with just one or two items getting a spot treatment- and don't get me wrong- they're gorgeous! But in
Brand-New Baby Blues
, the full-bleed pages are alternated with spreads that have multiple spot illustrations and Kelly is awesome at those! When they're alternated like that, it feels kind of swingy, like the text. So it was fun to see a slightly different style from what we're used to (not that we sit around all day here and look at
Hush
and
Castle
- really, we don't...much. Ha!)
Anyway, enough of my amateurish rambling- go check out
Jules' much more professional treatment of this fantastic new book
. It's a lovely way to start your day!
:)