Guest Blog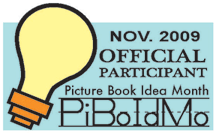 (Ahem)
I've been asked to do a
Guest Blog
. My first one e-v-a-h.... So, this means I'm famous, right?!
Ha! Not quite, I know... BUT, I AM super-fabulously excited to have been asked to be a part of PiBoIdMo over at
Tara Lazar's blog, Writing For Kids (While Raising Them)
.
Tara has really knocked herself out this month focusing on creative ideas and how and where to find them for picture books. Every day there has been a new, novel way of looking at the generation of ideas that I hadn't thought of before. Every day. Tara is amazing- we need to create a Major Award for her or something...
Today, in my
GUEST POST
(woo-hoo!), I let you all in on the secret way I find my best ideas. I'll be upfront: it's kind of weird. And it's not the most
positive
way of looking at this common conundrum of finding the Next Best Idea... but I think of it as "looking on the bright side" to make me feel better about it. Or "how to make lemonade from lemons". It is simply how my brain works and I firmly believe that once YOU can figure out the way YOUR brain works best, you are well on your way to success. So, go check it out already!
And please, while you're there, make sure to thank Tara in the comments for all she's done for our children's writing community this month! The woman r-o-c-k-s!
:)