Pictures!
I'm so glad I did all this fall promotion for Hush. I had a blast, and learned A LOT about myself, and what I can and can't do, and what I like to do and what I don't-so-much like to do.
As a card-carrying member of the
Shrinking Violets
School Of Promotion (but of course, we don't carry cards- that would be a little too forward of us, don't you think? And really, if I'm going to be completely honest, they don't even know I'm a member, since I just inconspicuously lurk on their site...), I had no idea I would actually LOVE school visits. I really do! I still need to work on a program and make it, you know, perfect, but getting past the I-Can't-Do-School-Visits-Because-I'm-Terrified-Of-
Speaking-In-Public thing was a huge step. Well, I'm not entirely out of "nervous" territory yet, but I'm way over "terrified"!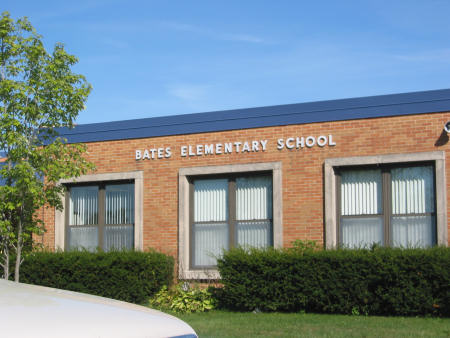 At Bates Elementary in Ann Arbor, Michigan, home of the wonderful bookstore,
Nicola's Books
, I had a great time doing joint presentations with
Debbie Diesen
, author of The Pout-Pout Fish. Look what their ULTRA fabulous librarian, Ms. Paula Smeltekop, sent me: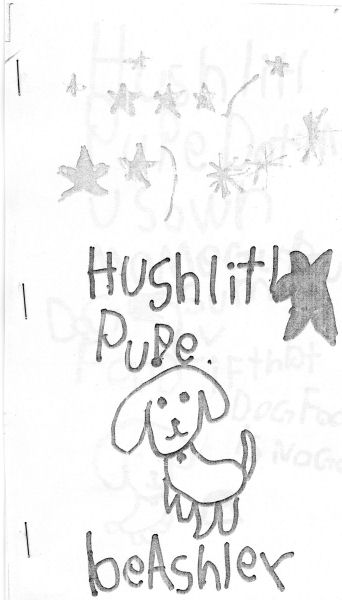 I inspired some students there to write books! Thanks, Ashley (and Alina too! :)
Yes, that is cool beyond cool. I can't even inspire my own kids to put away their laundry...
I also discovered that unless I am actually posed for a picture (like when random candid photos are snapped of me doing a presentation), I look like a six-year-old trying fish for the first time. Apparently, in every picture. Look: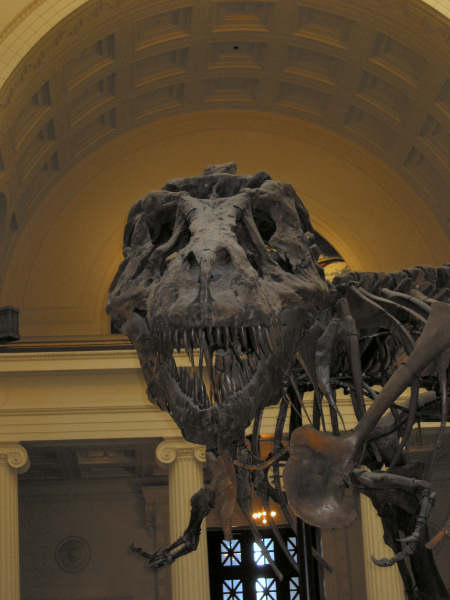 Just kidding. That's
Sue
!! Definitely worth a trip to see her at The Field Museum in Chicago. Dinosaur Heaven, that was. I could spend DAYS in that museum... But anyway, me? NOT candidly-photogenic. I make LOTS of really weird contorted expressions when I'm talking. Lots. No, trust me, more than that. Here's one from so far away, I won't be embarrassed: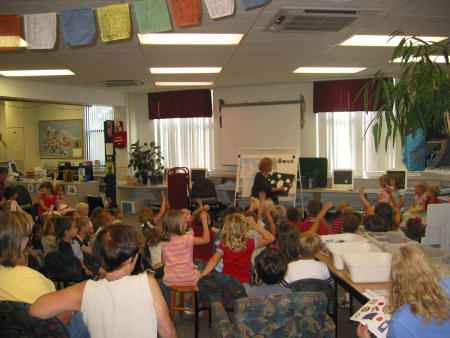 So, from now on, when I notice someone with a camera, I'm going to pose for a split-second so they get at least one good shot. Otherwise, I'm the Author Bride of Frankenstein!! You'd have to pay me to post all the other pics! Ha!
Posed, I can do. Here's a lovely one with Amy and Kim from
Crocodile Pie
in Libertyville, Illinois. Don't children's bookstores
rock
???!!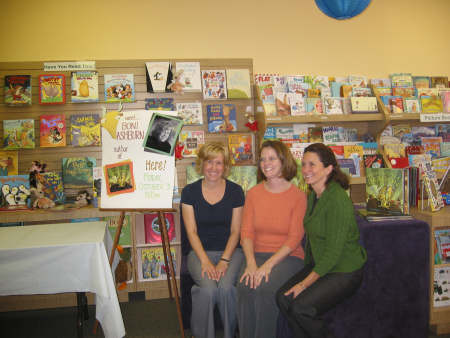 And if you don't know the story of Crocodile Pie, here it is in a nutshell: Fantastic local children's bookstore, on the verge of going out of business, is rescued by a local dentist who just can't bear to see it close. WOW is right!! Kim Zizic and her manager Amy Moran deserve every kind, positive thought you can send their way. Also, every dollar, but we all know that already, don't we...?
Shop your local independent bookstore. Shop
more
your local independent
children's
bookstore. The world is a better place with them in it!!!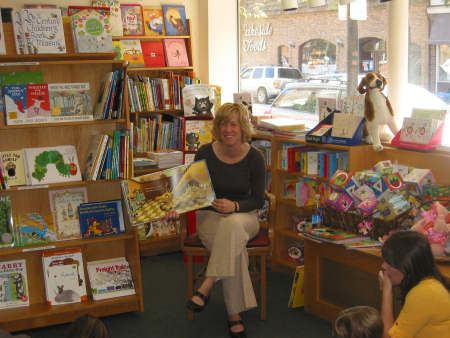 Here's another posed picture, sort-of, at
The BookStall At Chestnut Court
. When I read a Pigeon book during my story-time there, I was gently reminded by a young listener that I, Boni Ashburn, am no Mo Willems. (Young listener: "Yeah, I've seen that book before. Yeah, I saw
Mo Willems
here. There were millions of people here! And HE was funny....") Hey, I can't argue with that- Ha! At least the kid has great taste in authors :) But The BookStall was so very kind and gracious to this newbie writer that I can't hope but to be invited back. I will never draw a Mo Willems-sized crowd, but a small-yet-enthusiastic audience will never go unappreciated by me :)
One more picture- this one is from Lincoln Elementary in Petoskey, Michigan.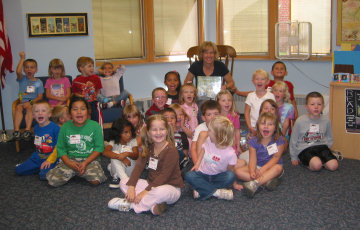 The students were great, they liked my presentation, the teachers even asked great questions, but their librarian made this stop one of the best. Schools everywhere, take note: if you want students to be motivated, excited readers, start with a terrific school librarian. Beth Miller at Lincoln (like Paula Smeltekop at the above-mentioned Bates Elementary) was enthusiastic, kind and knowledgeable- everything a great librarian should be! It reflected in her students and made for a memorable and fun visit. I hope they thought so too :)
That's my wrap-up, which actually doesn't seem like much now, but was a terrific, overwhelming and ultimately very satisfying foray into the world of book promotion. My kids got to see me work as The Author on some of it (my family accompanied me on the Chicago leg), which was probably the best part. Now they're starting to see what I
really
want to do for a living! Was it successful promotion-wise? I'd like to think it was, but do we ever know? If, however, I measure its success by how much it boosted my confidence level, it was a home run for me :)
A big thank you to all the bookstores and schools who hosted me this past month! I hope to see you next time around :)