I Had A Favorite Dress Coming Soon!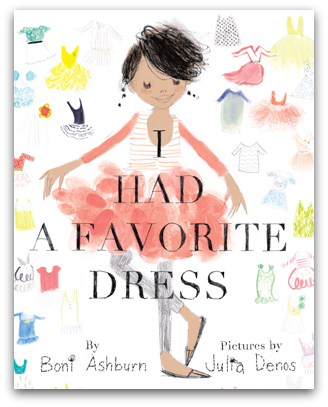 My next book,
I Had A Favorite Dress
, is considered a "fall release", but the actual pub date is August 1st- which is really, really soon! I am so excited for this book to come out- it is one of the favoritest things I've ever written. It was inspired by my daughter, Lily, and it is dedicated to her as "my favoritest girly-girl." Although the voice of the main character is most likely my own (circa 1975), I was never-not-ever a "girly" girl (and neither is my other daughter), so this book is really pure Lily.
The
first review, from Kirkus, which you can read in full here
, just came in... and it's good! They call it
"a charming interpretation of an old story that will speak to young fashionistas."
Whew! I could not be more pleased with my first-ever Kirkus review :)
I'm also
giving away a signed copy of I Had A Favorite Dress on Goodreads
! It's VERY easy to enter and there are 25 days left, so give it a go!
Lastly, if you've never checked out the
blog of illustrator Julia Denos
, now is the perfect time to do so. She is posting some of the lovely art from our book and has an all-around nifty blog that you don't want to miss. It is positively a feast for your eyes!
:)